Our Super App
Our Super App serves as a single window into our entire Ecosystem and integrates all our products and services into one convenient and readily available interface.
It eliminates the conventional offline/online boundaries in shopping, payments and personal finances, allowing our customers to shop online and in-store, make and receive payments, manage all aspects of their personal finances, use location services and manage the bonus programme. All our services in one Super App becoming part of customer's daily lives.
Bill Payments
Our online Bill Payment service enables our customers to pay for regular household needs and for purchases.
A consumer can transact using the Kaspi e-Wallet and the Kaspi Gold debit card. We regularly add new merchants to our already extensive merchant list with the aim of creating a "one-stop payment" experience for our customers.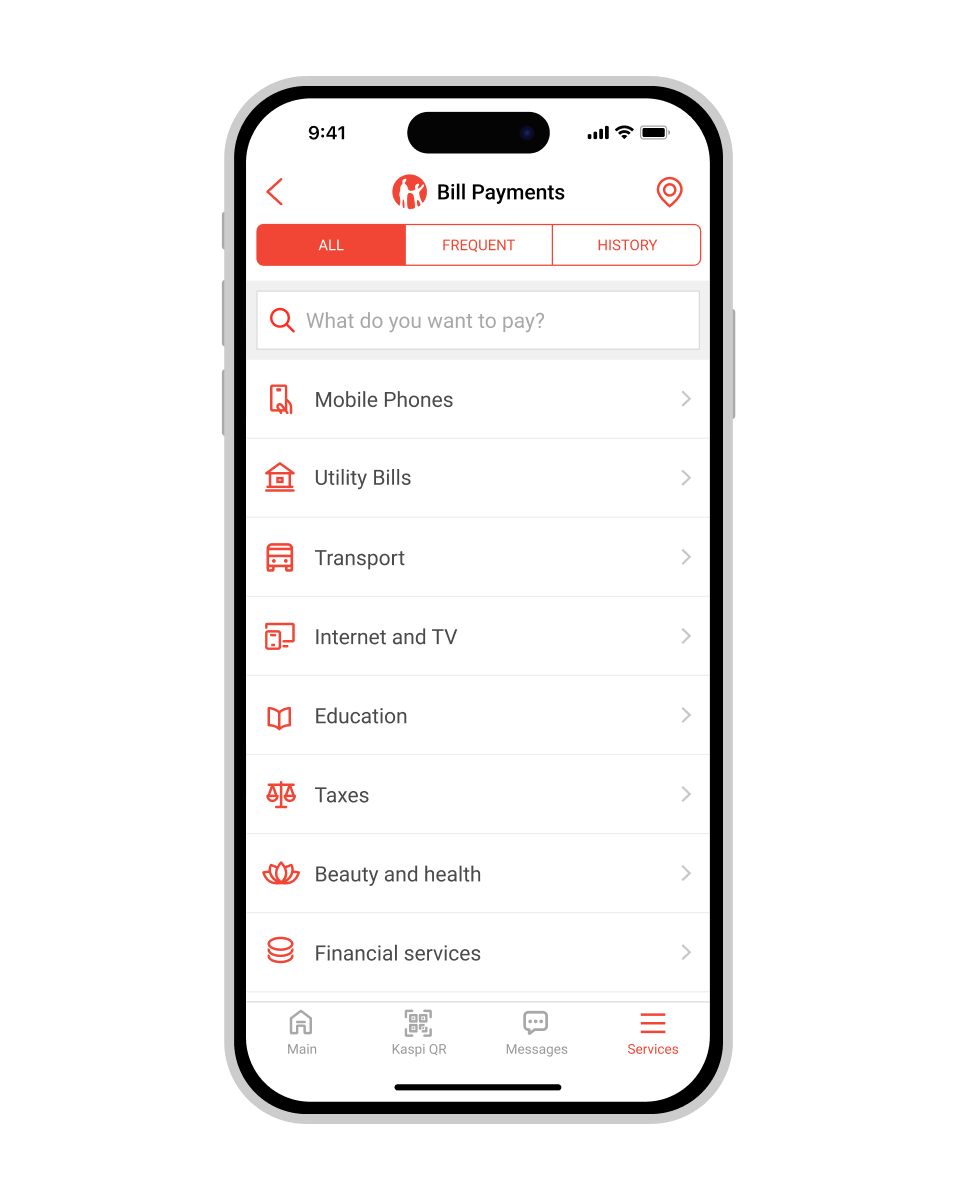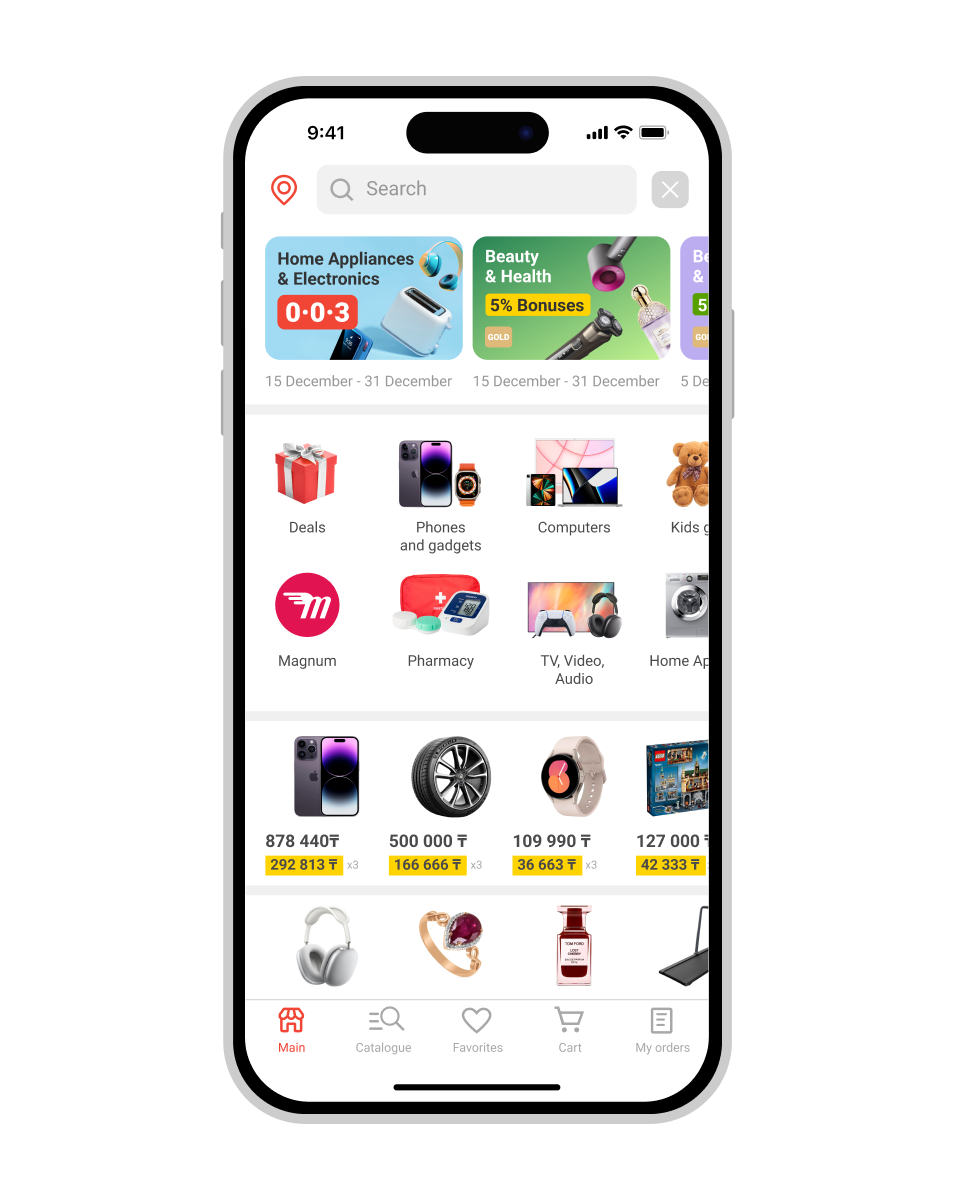 Marketplace
Shop on Kaspi.kz is our online Marketplace that provides an integrated online shopping experience starting from the product selection and purchase to in-store pick-up or delivery.
The product selection process is facilitated with search tools, comprehensive product reviews, ratings and videos. The merchant selection process is assisted by merchant ratings and location details.
Fintech
We offer our customers online access to consumer finance throughout our Super App and website, with instant financing approval. Our customers may prepay any consumer finance loan without any penalty prior to contractual maturity.
To craft a seamless shopping experience, we also offer our customers online consumer finance products that allow them to instantly finance purchases on the Marketplace Platform.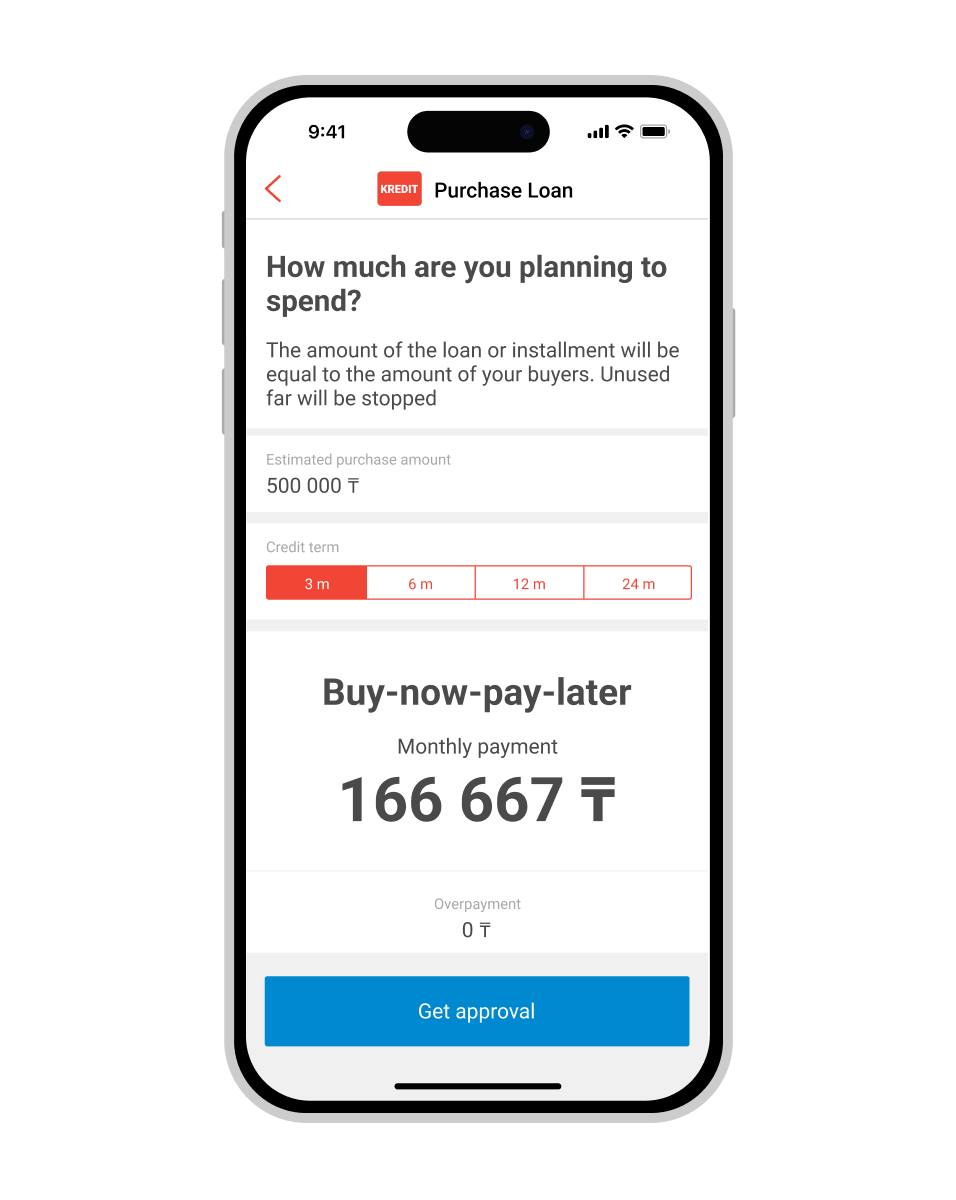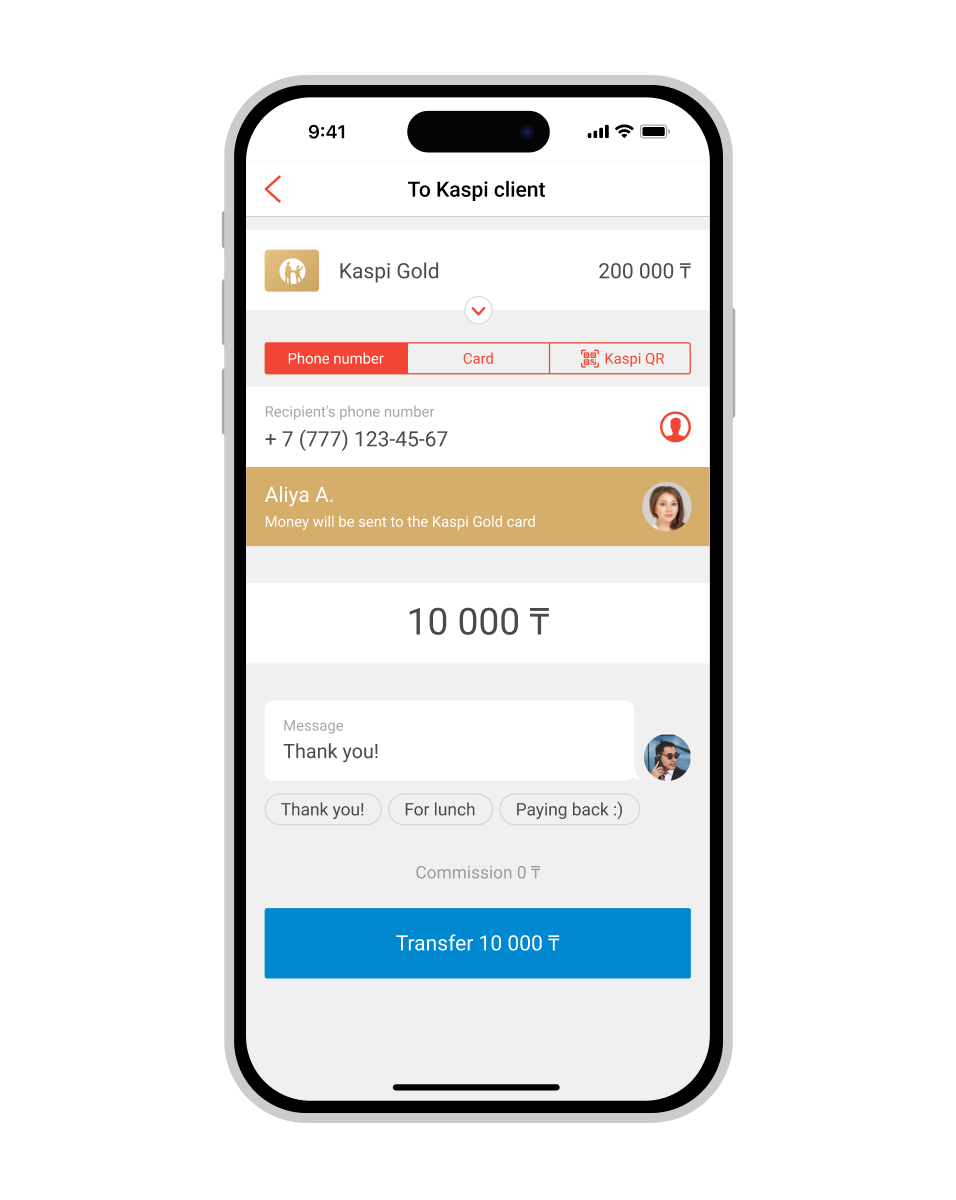 P2P Payments
We launched P2P Payments to enable our customers to settle bills and expenses with friends, to transfer or receive money from other Kaspi.kz customer, as well as wire money to any Mastercard or Visa card domestically or globally.
Our customers can make P2P Payments in Kaspi.kz Super App by card number, mobile phone number or Kaspi QR. Customers can also supplement their transfer with additional text comments and confirm the wire straight from Kaspi Message in our Super App.
Mobile Commerce
We have launched Kaspi QR with the purpose of shifting our customers' payment experience in merchant stores from payments by card to payments via our Super App.
To enable purchase, the merchant scans the customer's personal QR-code and inputs the relevant amount of purchase, and the customer selects one of Kaspi Ecosystem payment options and confirms the purchase.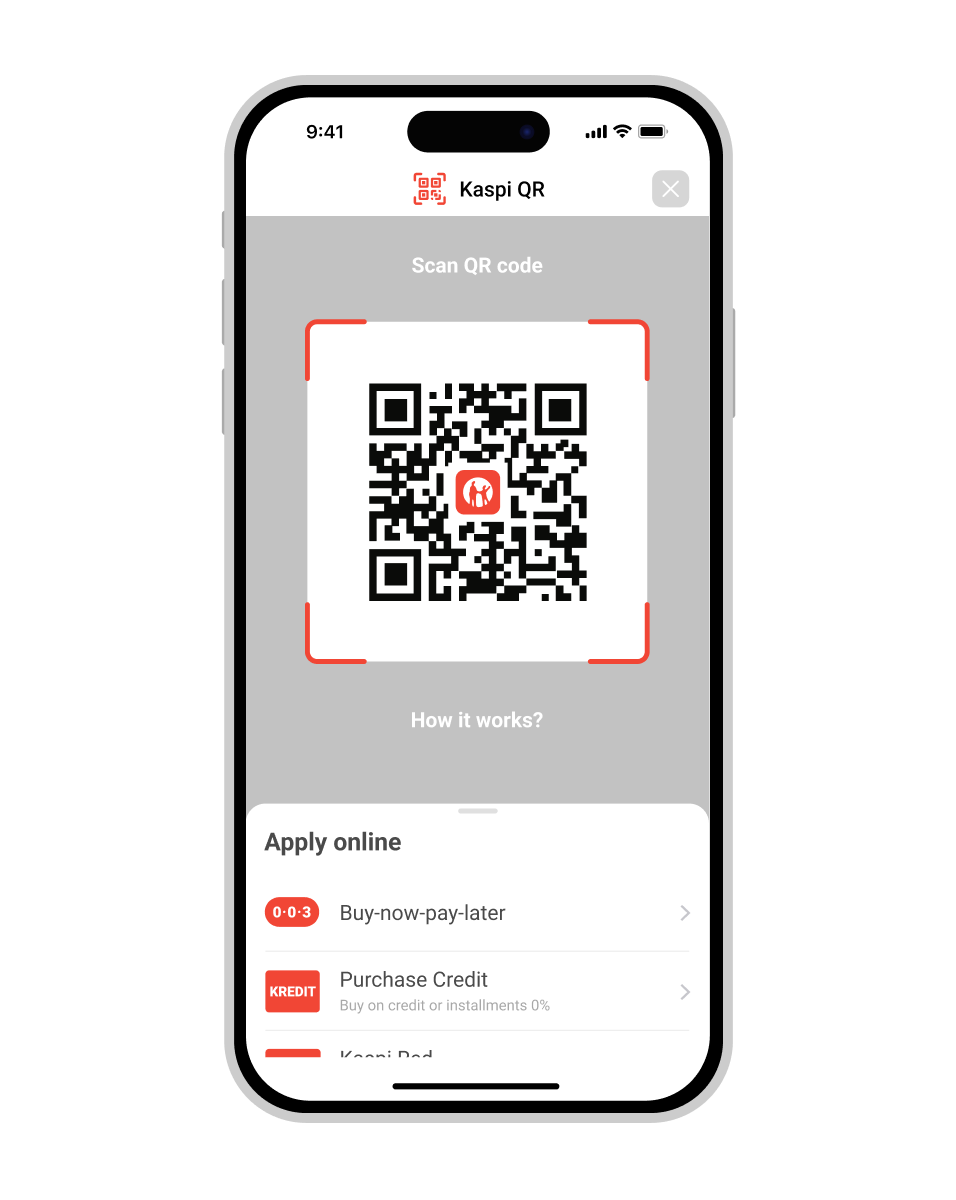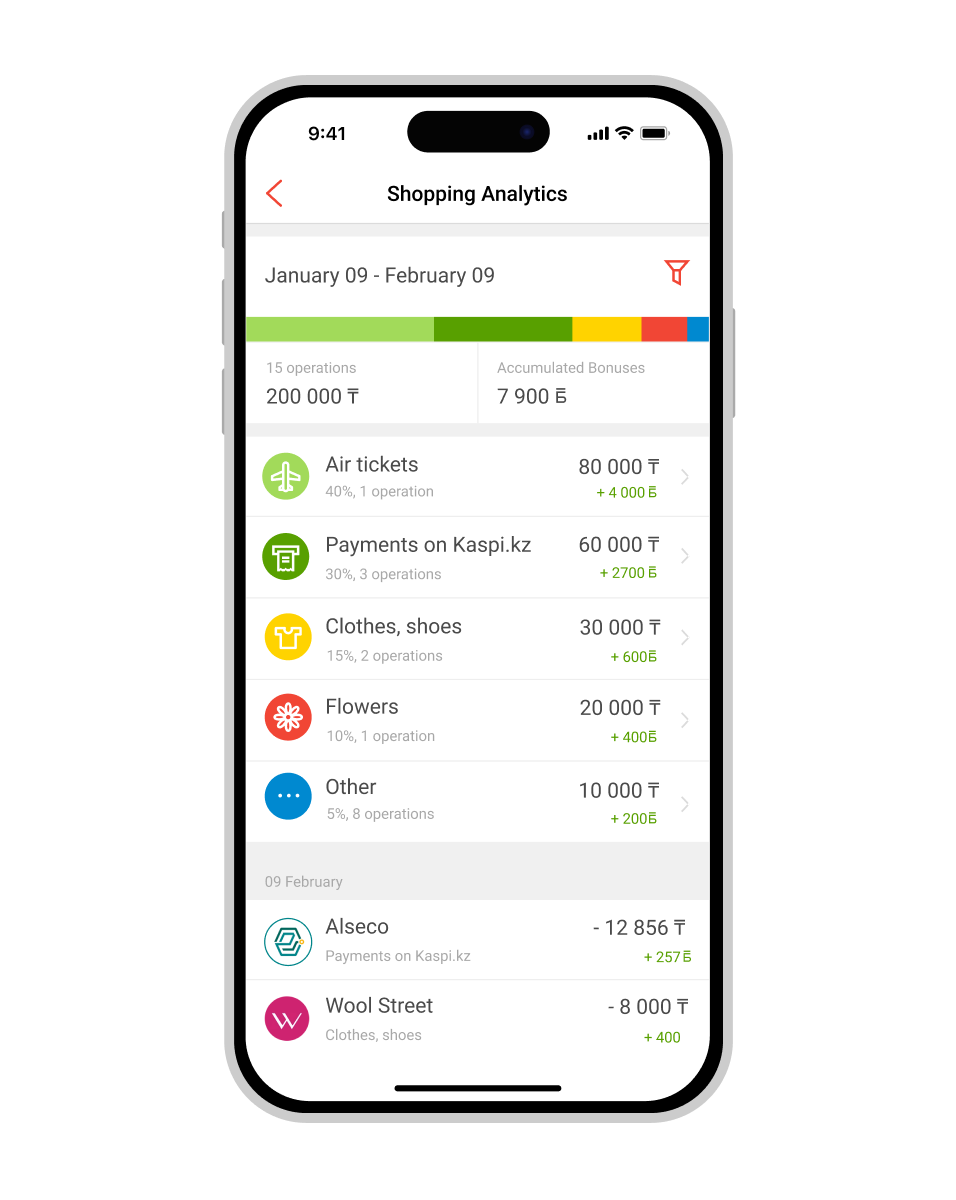 My Bank
My Bank is fully online 24/7 personal finance management tool for our customers which allows to manage family budget by analyzing different types of purchases.
User of My Bank can manage security of their cards, access accounts information online, see detailed account statements and top up Kaspi Gold debit card.
Shopping Club
Kaspi Red shopping club allows our customers to make purchases free of any interest through an instalment loan for a period of up to three months and collect Bonuses.
Kaspi Red is organized around popular shopping categories and merchants and a customer can navigate the list of participating merchants by product category with the indication of location, working hours, as well as any promotions taking place at that specific merchant.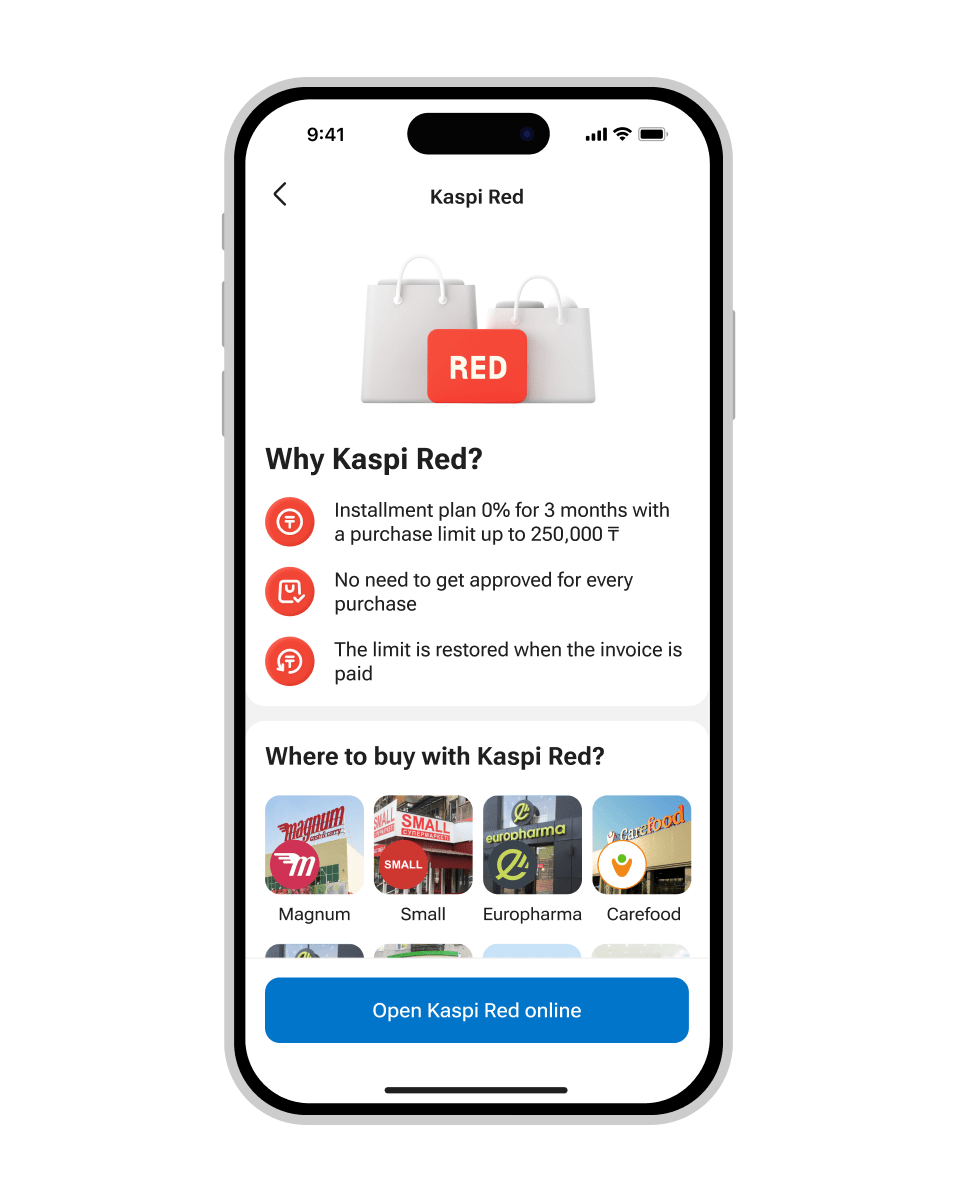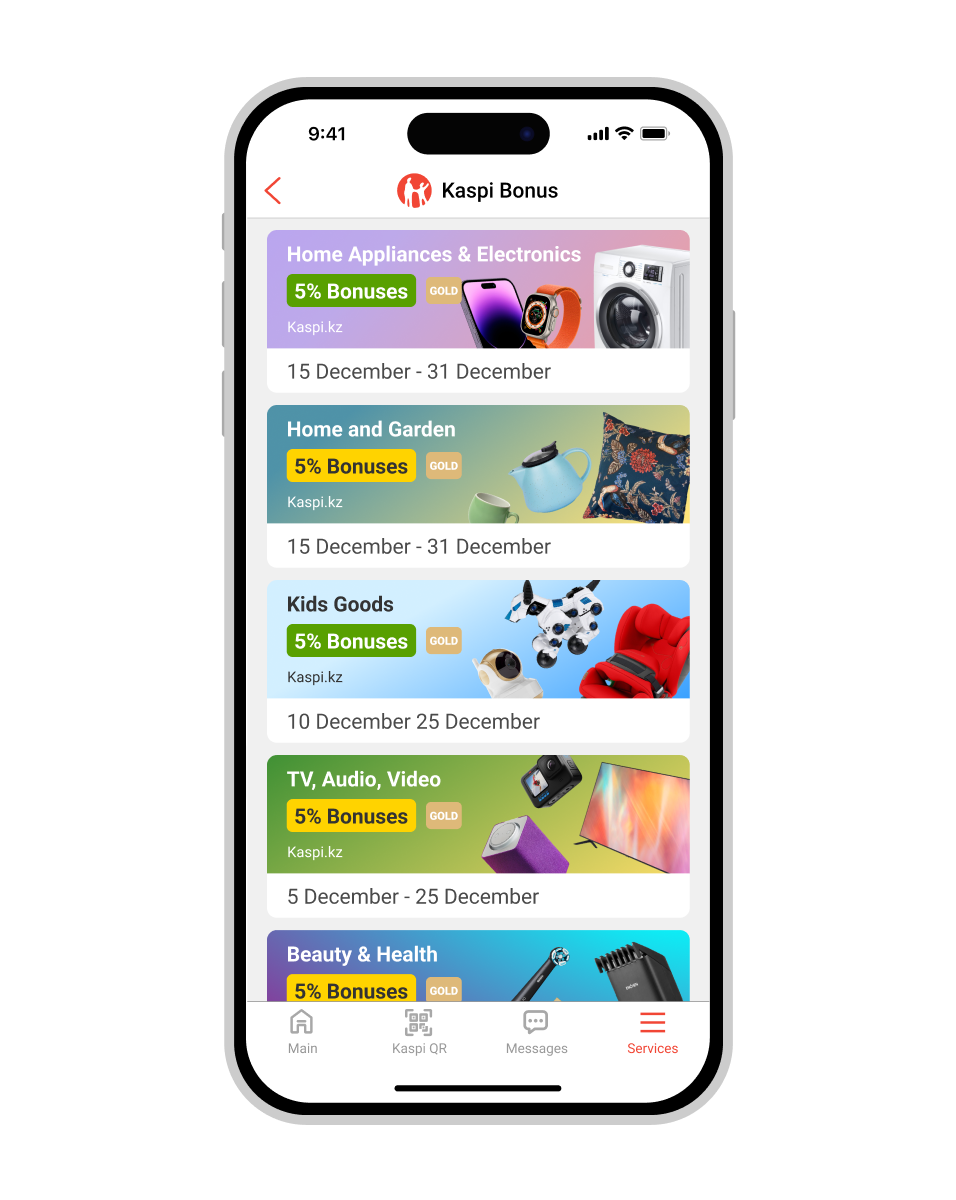 Bonus Program
Kaspi Bonus is aimed at driving our customer engagement in our Ecosystem and incentivises customers to switch from offline to online payments and purchases.
Customers receive bonuses for transactions within our Payments and Marketplace Platforms and can spend accrued bonuses through the Super App. Bonuses can be spent instantly only online via our Super App.
Maps
Kaspi Maps facilitates transactions within our Ecosystem and enables our customers to locate any of the nearest Kaspi.kz:
outlets with indication of their working hours and current queueing time in minutes;
merchant stores where purchases can be completed via our Ecosystem;
ATMs of any bank in Kazakhstan with indication of their withdrawal limit;
and Kaspi.kz payment terminals where they can top up their deposits, Kaspi Gold debit card or e-Wallet.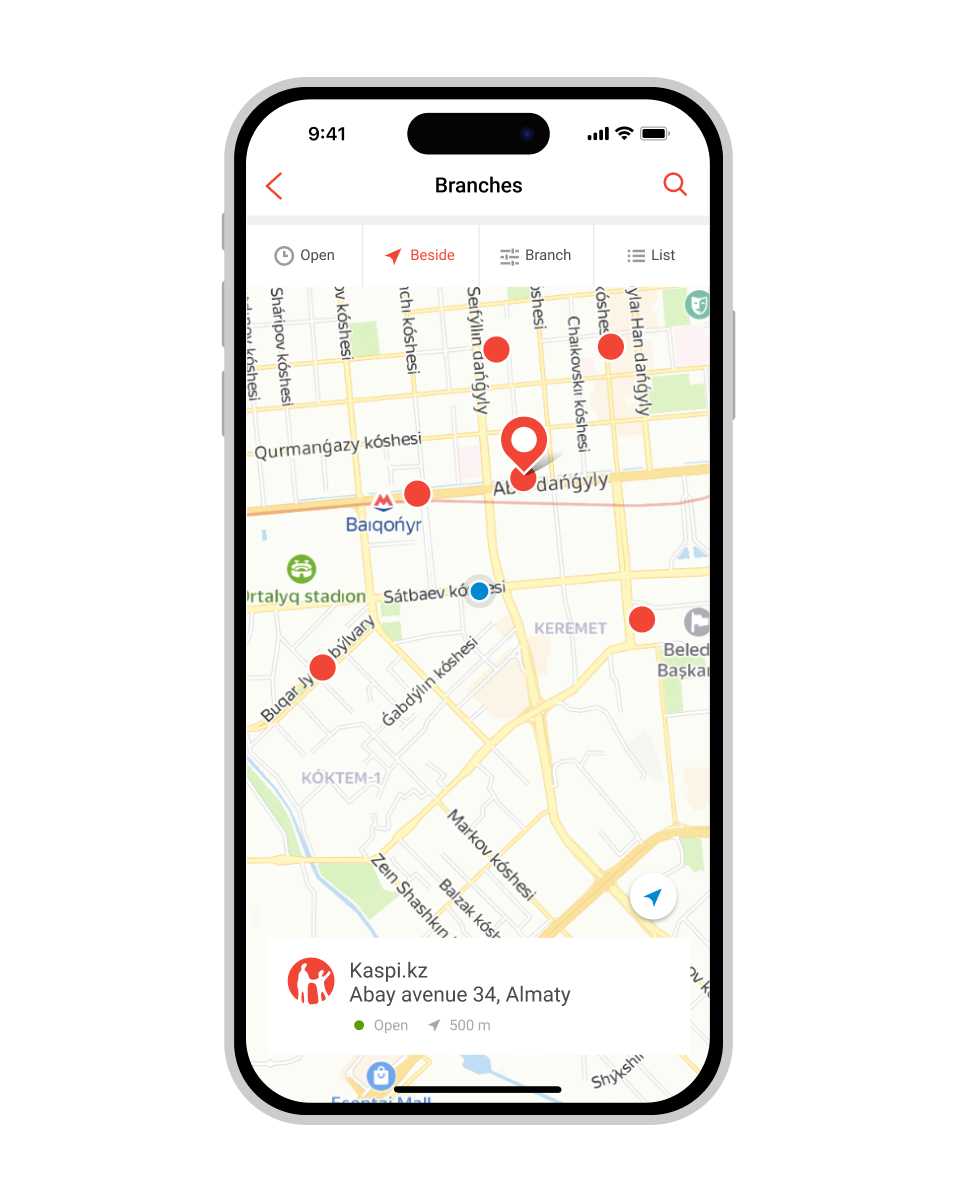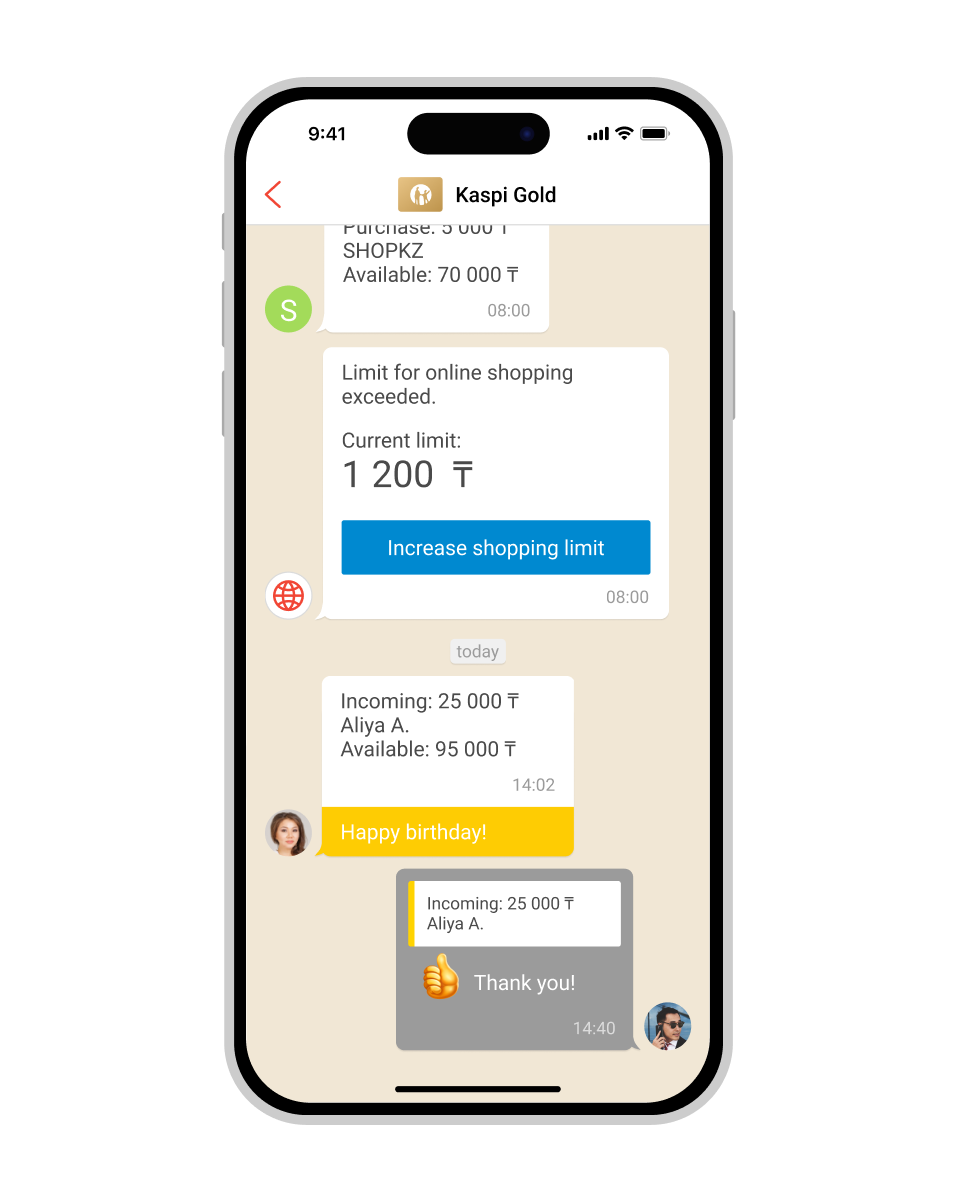 Messages
Kaspi Message is a user-friendly and convenient personalised service that allows our customers to receive direct communication relating to bill payment reminders, money transfers, top-ups, funds withdrawals from customers' accounts and deposits, bonus accruals, consumer finance approvals and monthly payment reminders.
Kaspi Message also guides our customers through the process of completing specific transactions across our Ecosystem.